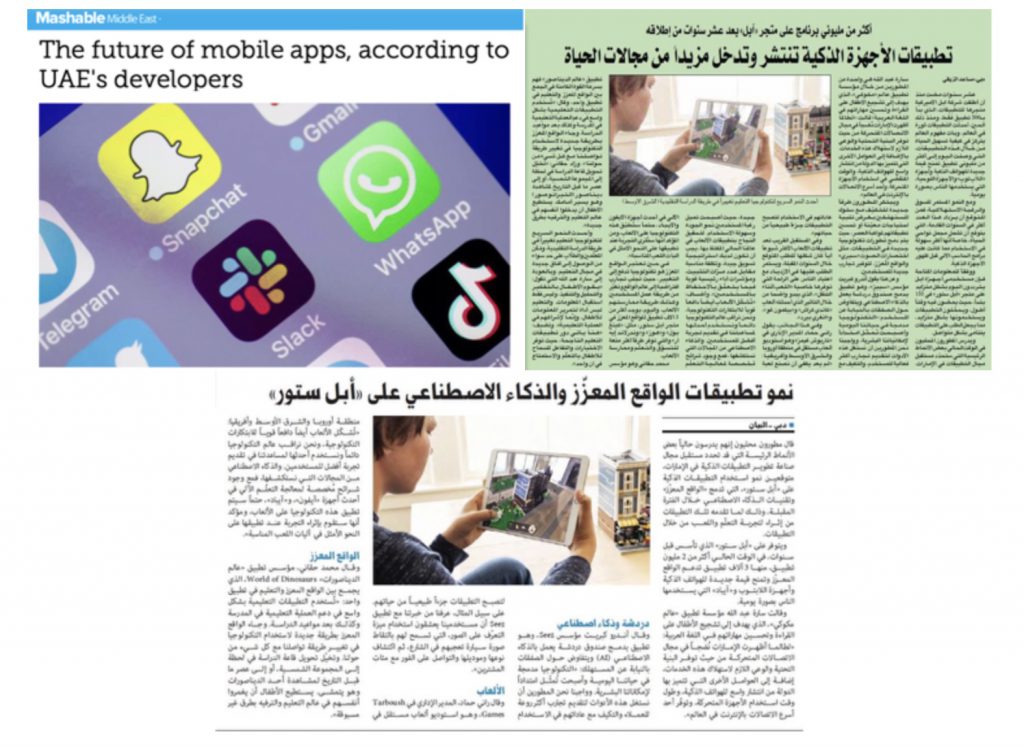 01 . How do you feel consumer behavior and appetite for apps has changed over the years in the region? What category of apps do you? feel are working best in the UAE? We had great recent years in terms of smartphone technology development and these devices became cheaper and more affordable for people. That leads to create a demand for developing a variety of apps that became an important part of everyone's daily life. Smartphones are the main device for many people to get the news, to be in touch with others and etc. So everybody prefers being able to do many tasks with their phones and not to switch to devices like laptops or their smart TV sets and in general, the apps can help them achieve that goal are more wanted. The charts in the app store in the UAE shows that the apps related to social networks, entertainment, and photography are more popular.
02. Do you feel that the local developer community is growing in the region? How has the App Store supported your journey? Definitely yes! One of the reasons that we see more developers is a good financial income from selling apps. Learning coding and app development became easier thanks to many online sources and tutorials. Also, more companies and local businesses are aware of the importance of owning an app for their marketing or sales purposes and that increases the demand for developer's market. We have great support from the app store and the team behind it that helps us to keep our standards higher and let us reach more targeted users. The new app store design in iOS 11, new features like "Today Tab" and Search Ads made more engagement to our app's page resulting in more downloads.
03. How has education apps changed the way kids learn in your opinion? Given that user behavior and needs are constantly changing, how are you adapting your app to keep up with these trends? Educational apps for children have been widely used in supporting learning during the school hours and after that, and there is a growing interest in the potential of digital apps to deliver effective and engaging learning experiences. The science apps are more interesting for kids as those apps are packed with multi media features. The children get entertained besides learning. Another important reason for using these apps is that those run on the mobile device such as smartphones and tablets. There are always new contents through updates. I always monitor the new updates for software and the hardware to apply the new features in my apps and make them more interesting. For example, I use features like 3D touch, AR, gyroscope and USDZ file format for 3D contents in World of Dinosaurs app.
04. With new technological advancements and features introduced every day, such as Siri Shortcuts, AR - how do you feel these will elevate the consumer experience? Introducing AR was a new way to use technology that transforms how we work, learn, play, and connect with almost everything around us. Imagine our classroom could become the cosmos or a prehistoric era that a T-rex can walk in it!. I believe AR brings a new way to interact with virtual objects. You can immerse yourself in entertainment like you never before, and the real world is about to get really fun.
05. What's the future for the mobile app industry, in your opinion? What advice would you give up and coming developers who want to get into this space? The app industry is growing quickly and new innovations are emerging daily. The smartphones are being upgraded with the newest technology such as AR/VR, A.I., machine learning, etc. At the same time, we as the developers need to adapt our apps with everyday techs and we have to create apps that can be in pace with users need. My advice to the new developers is to be creative in creating apps. There is a very tough competition and the successful developers are the ones that come up with the new ideas and solutions or the bring a new experience to what is available in the current market. They need to track new features in iOS and related to the hardware to keep their apps always up to date.